Temple Of Jupiter
Exhibitions and attractions
Travelers arriving at Split are probably well aware of the city's historic past. It was notably the summer retreat for the Emperor Diocletian during the 3rd century A.D., and has grown up around his palace ever since. There are many other ancient Roman landmarks all over the city. One of the most prominent may be the Temple of Jupiter, located adjacent to Diocletian's palace. It was one of the last such temples of its kind constructed within the Roman world, so many people tend to find it fascinating. It is also somewhat well preserved for being several centuries old. If you would like to see this temple, you will want to add it to your itinerary while in the city of Split.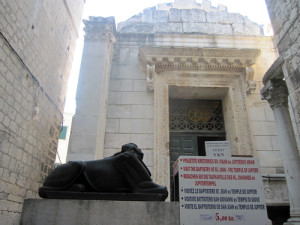 The temple itself is somewhat small compared to other Roman temples that had been erected all over the Mediterranean area. But the ceiling is vaulted, so it will still give visitors quite a sight to see when they enter. Many of the statues and fine metals have long since been removed from the interior of this temple. Some visitors may need to use their imaginations to think of how it used to look like. But it was once a major center of devotion for pagans who worshiped the god Jupiter. It has also been dedicated to other Roman emperors throughout its storied history in the city.
During the Christian era, it was used as a church and contains the tombs of local bishops. The temple has also played host to many other types of Christian relics throughout its history. It was eventually eclipsed by a Cathedral that was built within the city, but it had served as the religious center for quite some time. Today it has been preserved as a veritable museum of the city's past. You can see some of the evolutionary changes that occurred for Split within the Temple of Jupiter itself.