Climb Split Cathedral
Things must be done
Climb Split Cathedral – many local people in Split would say that this is one of many things that must be done while visiting Split. After admiring the cathedral's sumptuous pulpit, for a nominal entrance fee you can make the dizzying climb to the top of the bell tower for a stunning panoramic view of the palace, the city and sea beyond. The climb is fairly easy for anyone of reasonable fitness and the views are worth the effort. Alternatively, to get a view of the bell tower rather than look out from it, you can scale up to the neighboring heights of the Vestibule, the southern part of the Peristil and the entrance to what once was the emperor's residence. It may be lower than the Cathedral's tower, but the view is worth it.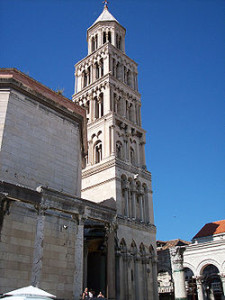 Visible from miles around, the bell tower of Split's Cathedral, is the most prominent feature of the city skyline. Coming into harbour by boat, or driving towards the city, you can see it from miles away and, like Paris' Eiffel Tower, you're constantly catching sight of it as you move around the city.
It's actually the bell tower, not the cathedral, that is dedicated to the city's martyred bishop, Domnius. Construction began in the 12th century and was to continue for 300 years before it was complete. Extensive rebuilding in 1908 (the tower had collapsed some time earlier) saw many of the original Romanesque details removed, though the lions from that period remain on guard.
The construction of Cathedral's bell tower lasted for three centuries, a reason why it has both Romanic and Gothic architectural influences. Historical data of its original builders is scarce, but it is believed King Bela IV and Croatian nobles of Frankopan family financially participated in construction costs.